The period of long study hours, exhaustive practise sessions, and consistent revisions culminated in a series of beautiful and heartfelt moments here at Narayana when, on June 18, JEE Advanced 2023 results were declared. Continuing the legacy of excellence in JEE Advanced results, Narayana Students grabbed the top ranks yet again.
This time, 4 students from Narayana have achieved All India Ranks under 15 in the open category, with Balaaji Reddy N securing AIR 9, Ujwal L Shankar AIR 11, Yuvraj Amit Gupta AIR 13, and Chaitanya Maheshwari AIR 15, respectively. Narayanite Nayakanti Naga Bhavya Sree secured AIR 1 in female category and 56 in open category.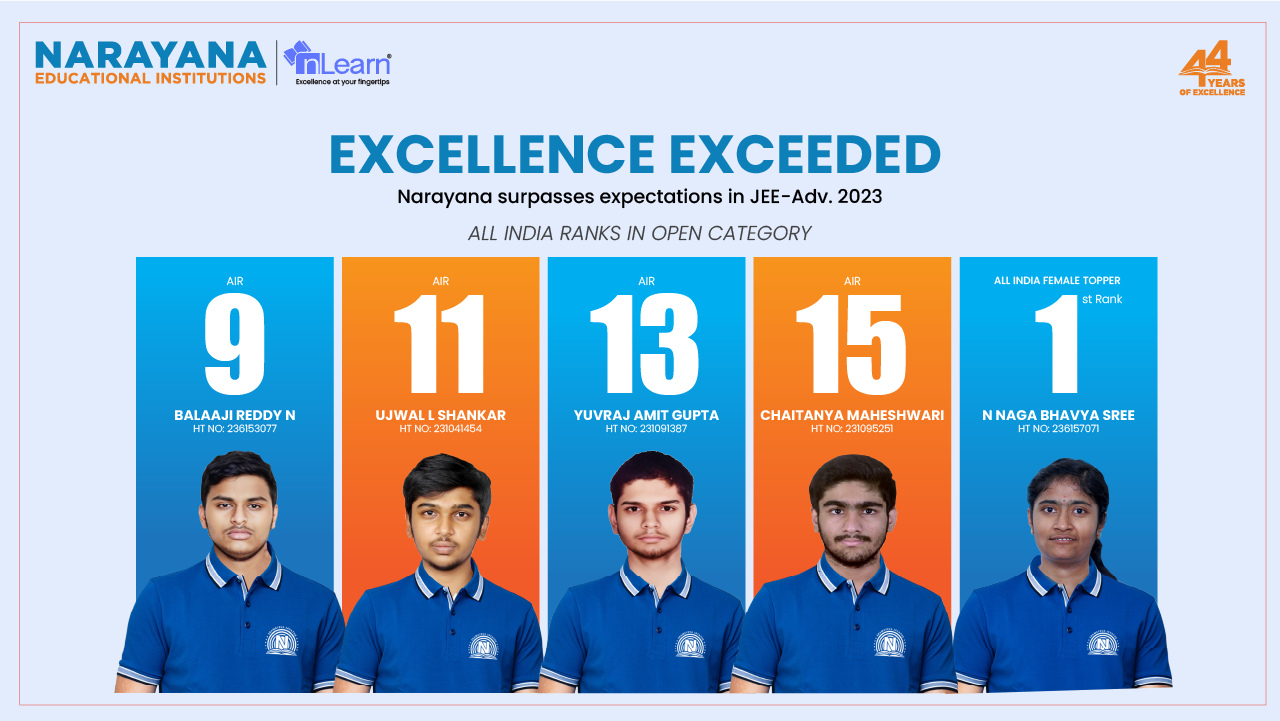 Other than these exemplary results, 18 Narayanites made it to the list of the top 50 All-India rankers, and 29 students were among the top 100 All-India rankers in open category.
Coming to the rankers across all categories, 316 students secured ranks under 500 and 529 students secured ranks under 1000.
All-India female category topper and AIR 56 ranker in the open category Naga Bhavya Sree shared her initial reactions with us, stating that she is extremely delighted to have achieved such great success. She stresses that her father's role in her education has been significant; it was he who sent her to Hyderabad to facilitate her IIT-JEE preparation. Talking about her inspiration, she said that India's former President and one of the country's most decorated scientists, Dr. A.P.J. Abdul Kalam, is her constant source of motivation.
According to her, Narayana's microschedule, weekend exams, and constant guidance and motivation from faculty were instrumental in her extraordinary performance in JEE Advanced 2023.
Balaaji Reddy N. attributes his success to his parents, grandparents, and Narayana Educational Institutions. When asked about the best congratulatory message that he got after the results, he mentioned his grandparents, who were very delighted and greeted him with sweets as the news came out.
He added that Narayana's nLearn greatly aided his preparation with its vast question bank and error analysis. Speaking on Narayana's specially designed microschedule, he stated that it is very well planned and excellently guides students with their preparation strategy.
With this, Narayana Educational Institutions have upheld their longstanding tradition of achieving remarkable results in engineering entrance exams.
The consistent success of Narayana Educational Institutions in producing top-rankers in the Joint Entrance Examination can be attributed to their emphasis on continuous practise, meticulous error analysis, and comprehensive faculty feedback. The Narayana system believes in continuous learning and improvement. We embrace every development in the field of education, whether technological or methodical, to the advantage of our students. This approach of constant learning and improvement is the reason that our students consistently grab the top ranks every year in every major competitive examination in the country, despite the ever-growing competition among students.
To aid students in their preparation, Narayana provides comprehensive research-based study material along with specially designed micro schedules and test planners. The IIT JEE-expert faculty offers personalised guidance, time-management strategies, and stress-relieving sessions to ensure error-free learning.
Technological innovation plays a vital role through Narayana's in-house applications, nLearn and nConnect. The nLearn platform allows students to track their progress and receive instant doubt clarification from their teachers, while nConnect facilitates constant engagement between teachers and parents, enabling real-time updates on their children's progress.
For the past 44 years, Narayana Educational Institutions has remained committed to equipping students with the necessary resources and skills to excel academically and beyond. The exceptional results in this year's JEE Advanced exam serve as a testament to the success of their vision.